COLLABORATIVE WETLAND GOALS FOR SOUTHERN CALIFORNIA
The WRP Regional Strategy articulates long-term goals and specific implementation strategies to guide the efforts of the WRP and its partners. Building on a decade of new research data and tools, and a growing momentum to address climate change and to protect and restore resilient and dynamic ecosystems, the WRP has embarked on a process to update the Regional Strategy, which will be completed in early 2017.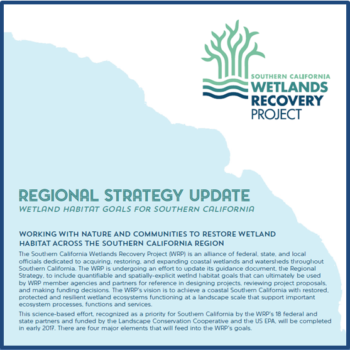 Regional Strategy Update Flyer 
The updated Regional Strategy will be a scientifically-based management framework developed through a collaborative approach.  It will contain quantifiable recovery objectives developed by synthesizing data on past, present and future conditions.  The updated Regional Strategy will also contain a decision support tool to aid in prioritizing preservation and restoration activities, which will assist the WRP in developing the Work Plan.
This effort is funded by a U.S. EPA Wetland Program Development Grant. The WRP is also receiving funding from the USFWS Landscape Conservation Cooperative program to address climate change-associated vulnerabilities of wetland ecosystems.
Current Regional Strategy
The WRP's Board of Governors adopted the original Regional Strategy in November 2001.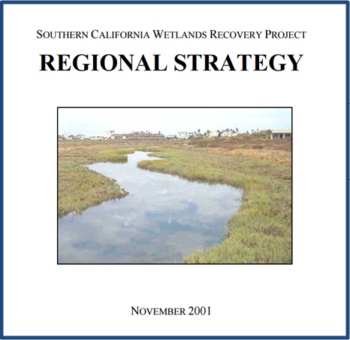 Original WRP Regional Strategy 
The Regional Strategy was developed through a multi-year planning process involving all the WRP partners, including the Science Advisory Panel and County Task Forces. As such, the Strategy articulates a shared vision that each partner – at the federal, state, and local level – can turn to for guidance in how to manage staff effort, direct resources, and measure progress. Success depends not only on a few agencies being actively engaged, but on each and every partner, at all levels, seeking to enhance the overall program with the particular resources that they wield.
Click the links below to read the Regional Strategy in sections:
A. Coastal Southern California and it's Wetlands

B. The Wetlands Recovery Project
C. Regional Recovery Strategy
A. Regional Setting
B. Decline of Southern California Wetlands
A. Statement of Need
B. Key Strategies
A. Summary of Existing Conditions
B. County Objectives
Appendix A– Summary of Conditions in Coastal Watersheds
Appendix B– Wetlands Conservation and Planning in Southern California